Mar 24, 2007 - 8th Training Hike
Sugarloaf Mountain
Time of Hike: 8:30 AM
Distance Hiked: 6.2 Miles
Temp During Hike: Low 51 °F High 52 °F - Very Foggy
Elevation Change: 900 Ft
We had a much smaller crowd than usual on this hike because of the rainy weather but it was still one of the best hikes yet. The rain was mostly cleared up by the time we started our hike but a dense fog blanketed the forest cutting the site distance down to about 30 yards in any direction.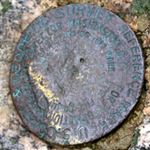 USGS Survey Marker at the
summit of Sugarloaf Mountain
We began at the West View parking lot 300 feet from the summit and started down the side of the mountain. After reaching the bottom we hiked along the yellow trail on fairly level trails through some environmental research zones. Along one section signposts were erected telling visitors when the section of forest was clear-cut so you could see exactly how long it takes a forest to recover after it has been harvested.
Our first stop during our gradual 3 ½ mile climb back up to the top of the mountain was White Rocks overlook. I have been to the mountain many times and know that this overlook gives you a fantastic view of the surrounding farmland and the Appalachian Mountains in the distance. Today however, it was just a blank white canvas dropping away from the rocks; it looked as if we were standing at the edge of the world. Not the view I was expecting but still amazing.
The thick fog that obscured our view from the overlooks made the colors of the forest pop. The greens were bright and vibrant and the dead brown leaves on the ground had an almost red tint to them.
Only about half of the group climbed to the very summit, the other half took another trail back to the parking lot. The summit was as expected, no view because of the fog but those of use that made the climb were of the same mindset, we came this far, we might as well push the extra 300 feet up to the top.

About Sugarloaf Mountain
Sugarloaf Mountain is a Registered Natural Landmark and is privately owned by Stronghold, Incorporated; a non-profit corporation that was organized in 1946. The mountain is open for the public's "enjoyment and education in an appreciation of natural beauty."
Sugarloaf came by its name because its shape reminded early hunters and pioneers of the sugar loaves common in those days. Throughout its history the mountain has seen millions of visitors, the earliest known map dates back to a Swiss explorer in 1707. Later Northern and Southern forces alternated in posting lookouts at its summit during the Civil War.
Geologically, it is known as a monadnock, a mountain that remains after the erosion of the surrounding land.
For more information visit:

Photos