Search the Fire Ring
Support theFireRing.com by shopping at amazon.com
Just shop as you normally would but start by clicking on the link above.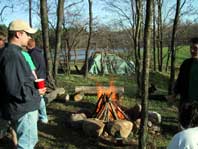 home » Works of Art

---

Works of Art






Little Camper - For Little Girls Who Love Nature & Camping
Design & Art by Greg Palmer
These designs were inspired by the birth of my daughter. My wife and I were in the baby store looking at all the cute clothes and every time we found something that included nature or camping it was obviously meant for little boys.

The art was drawn using colored pencil and then scanned into my computer to add the text and get it ready for print.


Nature Themed Room
Photos and Painting by Greg Palmer
This nature themed room is for use as a nursery. The idea came from 2 things. 1) we didn't know what sex our baby was so we needed a neutral theme and 2) the room already had blue walls.

I started by painting the ceiling the same color as the walls. Next I painted the sun around the light on the ceiling using a stencil I created for the rays to make them all the same. Then I moved on to the clouds using a rag technique. Even the duck and bunny were done freehand with a rag. After that came the tree; the trunk and branches were done freehand but the leaves were created using a stamp. It would have been too time consuming to do them all by hand. Last came the grass and plants around the bottom of the wall, which were all done freehand with a small brush.