Apr 7, 2007 - 10th Training Hike
Caledonia State Park/Michaux State Forest
Time of Hike: 9:00 AM
Distance Hiked: 7 Miles
Temp During Hike: Low 30.9 °F High 36.0 °F
Elevation Change: 900 Ft
For this hike we left Maryland and headed north into the mountains west of Gettysburg, Pennsylvania. Our destination was Caledonia State Park where we planned on picking up the Appalachian Trail (AT) for a 6 hour out and back hike.
The weather was cold again, in the low 30's, and not what we had originally expected after the 70 degree temperatures earlier in the week. All the training hikes had prepared us for the cold so we pushed on without another thought about the weather.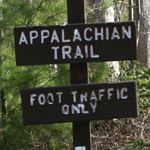 The Appalachian Trail
provides a walking path
from Maine to Georgia
We got the steepest part of the trail out of the way first when we climbed over 400 feet in half a mile to the top of the ridge. From there the walking was mostly level and easy for about a mile before we began the second major climb of the day. This was a much more gradual 400 feet up to the next ridge past the ruins of the Locked Antler Camp and the Quarry Gap Shelter.
After reaching the ridge we traveled along a dirt forest road for a little while before picking up the AT again. We followed it farther up the mountain under some power lines and up to the highest point of our hike just over 1900 feet where we stopped for our lunch break. It was a good thing that this was our turn around point because while we were eating lunch the temperature dropped to below 30 degrees and a heavy snow started falling.
The trail had much more to offer than just a challenging climb up the mountain. It was the day before Easter and at 2 points on the AT we found small pine trees decorated with Easter Eggs. They made us all smile, a nice bright moment in a cloudy and cold day. We got to talk to the person responsible for the decorations on our return trip. The "Innkeeper" of the Quarry Gap shelter was out doing a little trail maintenance and told us about how he and his 7 year old granddaughter had come out earlier in the week and decorated. It's always nice to hear about children enjoying nature.

About Caledonia State Park and the AT
The 1,125-acre Caledonia State Park is just west of Gettysburg, PA and is adjacent to Michaux State Forest. The park offers many recreation opportunities including hiking, camping, and swimming. It also contains a portion of one of the country's great National Scenic Trails, the Appalachian Trail.
The Appalachian Trail, commonly known as simply the AT, is America's first National Scenic Trail. It stretches 2,175 miles through 14 states with end points in Maine and Georgia. It was conceived in 1921 and completed in 1937. Every year 1000s of people hike the trail, many of them attempting to hike the entire length.
For more information about the park & forest visit:
For more information about the Appalachian Trail visit:

Photos