Mar 31, 2007 - 9th Training Hike
Gunpowder Falls State Park - Hereford Area
Time of Hike: 8:30 AM
Distance Hiked: 9.5 Miles
Temp During Hike: Low 51.8 °F High 59.0 °F
Elevation Change: 300 Ft
Finally, some nice weather for hiking! This weekend the Hike For Discovery group headed out to the Hereford Area of Gunpowder Falls State Park north of Baltimore just off I-83. The day started out a little cloudy but by the end of the hike there was a blue sky overhead and temperatures in the high 50s.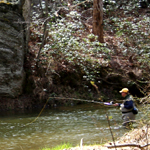 Gunpowder Falls is a popular
destination for Fly Fishing
This was the largest group we had seen in a while (probably because we had to turn in our Grand Canyon trail selections) and our longest hike yet at 9 ½ miles, over 3 miles longer than the previous group record.
The original plan was to start on the Gunpowder South Trail from Bunker Hill parking lot and head across York Road to the Panther Branch trail for a 7 mile loop hike taking 5.5 hours. All the training hikes must have paid off because we found ourselves eating lunch at the 6 mile point just 3 hours into the hike. Luckily I had the park map with me and was able to find a path that would extend our hike by another 2 ½ miles so we could all get a good workout.
There were many natural features to enjoy during this hike. Large rock outcroppings and many small streams were scattered along the banks of the river. Raven Rock Falls greeted us from the opposite bank as we rounded one bend and the cascading waters of Panther Branch made the climb up the hillside feel much shorter.
We also got a short education about the area fish when we met T.M. Le Gardeur who owns and operates Backwater Angler on Monkton Road. He was out helping the Maryland Department of Natural Resources monitor fishing and stopped to talk to us and find out about our journey to find a cure.

About Gunpowder Falls State Park
Gunpowder Falls State Park was established in 1960 to preserve the Big and Little Gunpowder Falls in Central Maryland. The Hereford area of the park contains 3,620 acres of scenic land and provides many opportunities to enjoy nature while hiking, canoeing, kayaking, and fishing in a nationally renowned special trout management area.
For more information visit:
For Fly Fishing information and Guide Trips visit:

Photos